Spring Break Means More Drunk Driving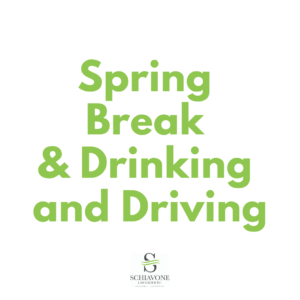 Spring Break is the time everyone is dreaming of shedding those winter coats and hitting the beaches. Unfortunately, it is also a time when drunk driving increases.
Law Enforcement Ramps Up
For Georgians, the most popular Spring Break state is Florida. And the Florida Highway Patrol is ramping up enforcement in many of the vacation towns and surrounding areas. The troopers are increasing citations and arrests for more than just DUIs. They will also be keeping an eye out for texting, seat-belt usage and open containers.
The troopers are aware that statistics show that the age group involved in the most DUIs are in their 20s. In fact, in the 1,241 crashes in Florida last year that involved alcohol or another substance, 350 of them were in March. Even though DUIs do increase in March, there are some months that track higher. Usually there is an uptick in DUIs at the beginning of the summer and around the holidays. Even so, the Highway Patrol says they will be working with other law enforcement agencies for help.
Not Just Alcohol
Alcohol does cause an increase in driving issues during Spring Break. But, that is not the only thing law enforcement is watching for. Distracted driving also can make completely sober drivers dangerous. Another problem this time of year? Drug abuse, especially from prescription medications.
A Student's Future
For high school and college students, a spring break arrest can be detrimental to their future. It can affect their college admission, financial aid, and future job prospects. So, we always encourage students to get an Uber/Lyft, stay put, or get a ride home from a sober friend.
In Trouble? Call Ashley Schiavone
If you or a loved one is arrested during this season, the most important thing you can do is contact an experienced lawyer to help you manage your case.