Georgia Super Lawyers Rising Stars 2021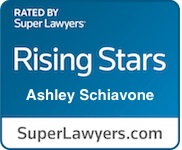 The Super Lawyers organization has chosen Ashley Schiavone as a "Rising Star" Lawyer in the category of DUI Defense. Not only is this a huge honor for younger lawyers, but this is the fifth year running Ms. Schiavone has been chosen! This award is highly competitive, only 2.5% of the nominated candidates are selected for this award.
A Rigorous Selection Process
Super Lawyers has a rigorous nomination and selection process. A lawyer is nominated by managing firms, other lawyers, the Super Lawyers organization, or a third party. Next, the candidate's performance as a lawyer is investigated by a research team. They look at key indicators such as verdicts, experience, community service work, professional activity, and outstanding achievements. The candidates must also undergo a peer evaluation before the final selection. The peer board is made up of the lawyers with the highest points on the twelve indicators above.
Super Lawyers is a national organization that seeks to create a credible and diverse resource for people (attorneys and consumers) who are looking for legal counsel in a specific area. If you want to check out Ms. Schiavone's profile on the Super Lawyers website, here is a link!
It is an honor to be chosen for this award; Ms. Schiavone currently has more than 10 years of law experience that is listed as a qualifier for this award.
Ashley Schiavone – A Dedicated Professional
As a client or peer, you may already know of Ms. Schiavone's hard work and dedication to her clients and her field of law. You may know that, as her Super Lawyer's profile says, she is "regarded one of the top DUI defense attorneys" in north Georgia. We are so proud that this award validates that fact.