Underage DUI in GA is Serious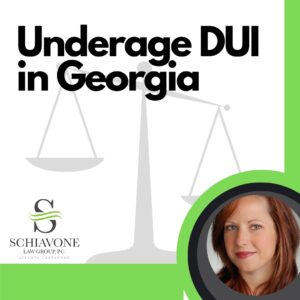 The State of Georgia has strict laws for young drivers. This is especially true for DUI laws for underage drinking and driving. Since the legal drinking age is 21, drivers below that age can face some tough consequences, with even a small amount of alcohol in their system. Here's a look at the state laws for an Under-21 DUI.
Blood Alcohol Content
One of the biggest differences for under-21 drivers is the legal BAC limit. While drivers over the age of 21 are arrested if the BAC is .08%, an under-21 driver can be arrested if the BAC is above .02%. While everyone differs in how they metabolize alcohol, a .02% BAC could be the result of just one alcoholic beverage. The .02% is a very small detectable amount. With a BAC of .02%, some people may not feel like they are "under the influence" at all.
Penalties
First Underage DUI
Misdemeanor

$300-$1000 fines

24 hours to 12 months jail time, (can be served in off-school hours)

40 or more hours of community service

6 or 12 month license suspension with no special permits allowed depnding on the chemical test results

Probation

Risk-reduction classes or DUI school
Second Underage DUI (In addition to penalties listed above.)
Fines increase to $600 – $1000

Jail time increases to 72 hours to 12 months

240 or more hours of community service

License suspension increases to 18 months or more 
Third Underage DUI
Charge increases to high and aggravated misdemeanor

Fines go up to $1000 – $5000

Jail time increases to 15 days to 12 months

240 or more hours of community service

5 year revocation of the license
Protect Your Rights
One of the biggest consequences of an underage DUI is gaining a criminal record at a young age. But there is hope. DUI defense can be complex and varied, depending on the case. The Schiavone Law Group can offer the experience and expertise to help you gain the best possible outcome.
Call 770-578-2344