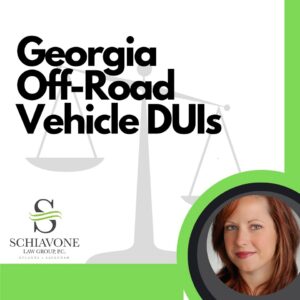 Can You Get a DUI Off Road?
A recent arrest in Ware County, GA got us thinking – do you know Georgia laws relating to off-road vehicles? Did you know that you can get arrested for a DUI while operating one? Did you know the laws have recently changed regarding operating these vehicles on some roads?
Details of a Case
Two people were driving an off-road Polaris Ranger, near Nicholls, Georgia in early October. The side-by-side vehicle flipped, and the passenger was tragically killed. The driver, who escaped with non-life-threatening injuries, was arrested on multiple charges, including a DUI, marijuana possession with an attempt to distribute, and driving an off-road vehicle on the highway.
Side-By-Side vehicles or UTV (utility task vehicle) such as the Polaris Ranger or Honda Pioneer fall into a class of vehicles called off-road vehicles. Until recently, these types of vehicles were only permitted off-road on private property, or public lands with approved trails. A new Georgia Law, passed in May 2023 will allow owners to register certain off-road vehicles for on-road use on county roads. Owners of these vehicles can begin registering for on-road tags on December 1st, 2023. In addition to tags, your vehicle must also have insurance. And, any traffic law that applies to a motor vehicle will also apply to off-road vehicles, including seat-belts and drinking laws.
What About Private Property Operation?
But, what would happen if you were drinking and driving your side-by-side on your own private property? It is illegal to operate any vehicle while under the influence of alcohol or drugs and this includes off-road vehicles. An officer would need probable cause to come on your property, such as seeing erratic driving or being called for an accident or injury, but it's also important to remember that these vehicles can be extremely dangerous. Drivers should always take great care when driving them and avoid using a substance before operating one.
Have Questions?
Do you have questions about GA off road vehicle DUIs or traffic rules in Georgia? Schiavone Law Group can help. Contact our office today!